AT FIRST SIGHT
Music & Lyrics by Brandon Lambert
Book by Gary S. Jaffe and Brandon Lambert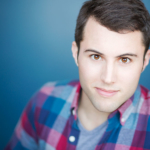 In the Fall of 2015, producer Teresa Marafino invited me to meet with her about writing a brand new musical for the Mountain Playhouse.  She asked if I'd be interested in writing a small-cast musical comedy that would appeal to Mountain Playhouse audiences.  Having just performed in two productions that Fall (Sir Henry Baskerville in The Hound of the Baskervilles and Jinx in Forever Plaid) I knew what kind of show would appeal to Mountain Playhouse audiences, and was giddy at the prospect of writing for such a warm, receptive audience.
I had about six months to come up with a concept, write a synopsis and compose a few sample songs from the show.  Luckily, the criteria Teresa gave me helped focus my ideas, and I knew I wanted to tackle a subject that was both hilarious and poignant.  After reading a book about dating today vs. dating fifty years ago, I found my subject: a single grandmother and her chronically single granddaughter playing matchmaker for each other.  First, I knew there was a lot of humor to be mined: picture a 70-something being coerced by her granddaughter into trying  Tinder.  Also, the concept let me explore the bond between grandchildren and grandparents, which, to me, is the deepest and most important relationship in the show.
I wrote a synopsis, found a title, wrote a few sample songs and submitted them to the Mountain Playhouse programming committee.   While I was happy with what I submitted, I knew that producing an unknown writer was risky.  To my surprise, the committee recommended to the board that they produce At First Sight in the 2017 season!  By the Fall of 2016, the board had approved it and I signed contracts with Teresa.  Then the real work began.
Over the past year, I've been steadily writing (and rewriting and rewriting and rewriting) this heartwarming story with the help of my collaborator, Gary S. Jaffe, and the director, Guy Stroman.  I recently looked back at the synopsis I submitted to the programming committee, and it's incredible to see how much the story has grown. So few theaters are commissioning and producing new musicals; the Mountain Playhouse is doing something incredible by giving opportunities to new writers.
I can't wait to share this hilarious, touching show with Mountain Playhouse audiences this Fall.  I can't think of a better place for this musical to be born.
See you in October!
Brandon Lambert